A roof inspection in Dallas is an excellent investment for every homeowner! You might put off regular inspections, not wanting to face roof repair costs. However, note that the sooner you schedule needed fixes, the less extensive and costly those repairs.
With this in mind, consider 5 signs you need a roof inspection for your home. If you notice any of these on your property, don't avoid making that call. A sturdy roof overhead means added insulation and less risk of water damage and mold in the home. High-quality roofs in good repair also increase property values and enhance curb appeal.
1. Get a Dallas Roof Inspection If You See Stains on the Ceiling
Stains on interior ceilings usually signal water damage. If you've ruled out a plumbing issue, it's time for a roof inspection in Dallas! Drywall and ceiling tiles absorb rainwater and moisture let in by roof leaks and other damage. Consequently, it's vital you have the roof checked and repaired as needed if you notice unsightly ceiling stains.
2. Schedule a Roof Inspection After Rough Weather
Never assume that a roof is in good condition after a strong storm simply because it's still intact over head! Heavy rains, high winds, tornadoes, tropical storms, and other such weather usually wreak havoc on residential roofs. In turn, it's vital that you schedule a full-scale inspection in Dallas after such weather has passed through your area.
Additionally, consider that harsh sunlight is also very damaging to shingles, tile, and other roofing materials. Consequently, schedule annual inspections every fall if you live in the tropics or a desert area. You can then arrange repairs or roof replacement as needed.
3. If You See Granules, Chipped Tile, Nails, and Other Debris
As roofing materials age, they lose shingle granules and other debris. Also, roof damage can mean chipped tile pieces, nails, and other materials ending up in gutters or your lawn. If you notice this issue around your Dallas property, it's time for a roof inspection. An inspector can note if only a few shingles or tiles are the issue, or if your home needs reroofing.
4. Don't Overlook Wavy or Buckled Shingles and Tiles
Some clay roof designs include waves or curls, as part of their style. However, never overlook wavy, buckled, curled, or otherwise misshapen shingles and tiles! These issues usually indicate damaged materials, moss, algae, or other such problems.
Also, note that algae is especially damaging to shingle roofs. It can continue to grow and spread the longer it's ignored! Consequently, it's vital that you schedule an inspection and needed repairs at the first sign of growth. This simple step will protect your roof and help you avoid otherwise unnecessary repair costs.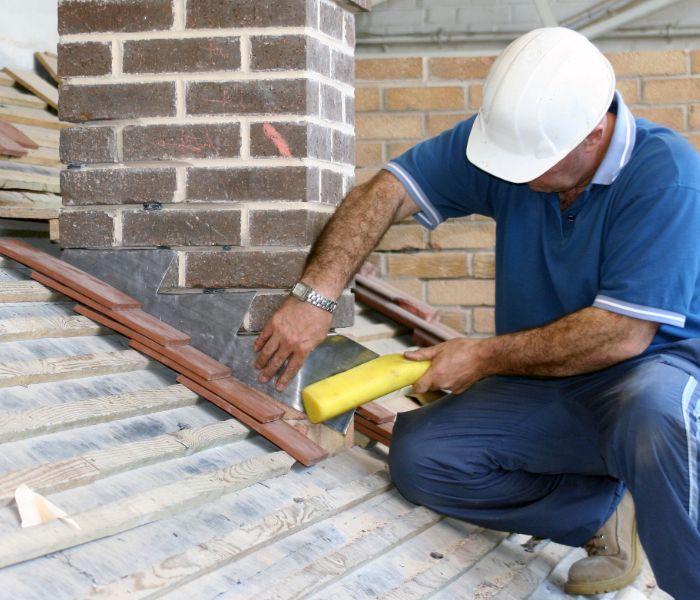 5. Your Interior Environment Can Signal Roof Damage!
A home's roof is a vital part of its overall interior insulation. Holes and other damage can let out interior heating and cooling, for a very uncomfortable environment. Also, that damage can let in outside heat, cold, humidity, and other moisture.
In turn, schedule a roof inspection in Dallas, TX if you notice drafts in wintertime or an overly warm space during summer. A cold, clammy home or overly stuffy rooms can also indicate roof damage. Whatever the case, have the roof inspected if your interior areas are suddenly very uncomfortable.
Other Signs It's Time for a Roof Inspection in Dallas
It's vital that you schedule a roof inspection if you notice these 5 issues around your property. However, consider some added indicators that it's time for a roof inspection and potential repairs:
How old is the roof? Once materials are more than 10 years old, and especially if they're past the 20-year mark, schedule an inspection! Roofing materials degrade with age no matter their quality. Consequently, they need regular inspections as they get older.
If you've noticed several neighbors getting roof repairs, it's time for an inspection! Homes in many subdivisions are about the same age. In turn, their roofs might also degrade at about the same rate.
Never put your home on the market without a roof inspection. This way, you won't be surprised to learn that the roof is in severe disrepair. Also, a sturdy roof in good repair can bring in more buyers and higher offers!
Above all, schedule a roof inspection if you suspect damage for any reason. Additionally, you might schedule an inspection just to note the roof's condition overall. If you don't know the roof's age or how long it's been since the last repairs, an inspection is in order!
The Dallas Roofers is happy to provide this information about roof inspections for Dallas homes to our readers. Hopefully you found it helpful! If your home needs a roof inspection, call our trained Dallas roof repair contractors. We offer FREE inspections and guaranteed services. To find out more, give us a call today.